On the heels of NT7S announcing that he's taking the red pill on Etherkit, I ordered a CRX1.  I decided this would be a good chance to try reflow soldering with the solder paste I added on the last Mouser order I placed.
First off, on the kit.  This is how things SHOULD be packaged, especially with SMDs.
Onto the build.
I used the syringe and a screwdriver to spread what was sometimes too much paste on the pads...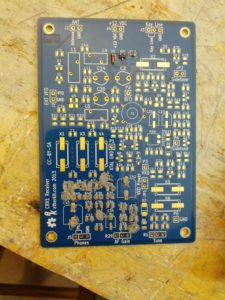 Then heated it up until I saw the components move into place (I have to admit that seeing the components move to the correct place is AWESOME!) and the solder looked fully heated.
The end result looks like this.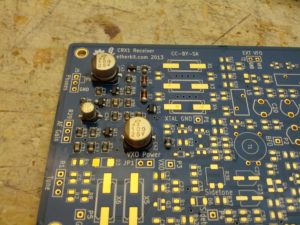 Lesson learned: tools made for removing flooring are NOT meant for electronics!  In the pic, the plastic bases for the electrolytics are starting to melt.  That can't be good; hopefully those caps didn't get too hot.  Also, it may have charred my workbench.  Hopefully by the time this posts I will have purchased something better (like a real soldering station!).
About the Author
Andrew is the owner of this blog and enjoys computer programming, building things, and photography. He's a pretty busy guy, which explains why updates to this blog are so infrequent.