I built an iGate.
I basically used the instructions from KB9MWR, although aprsx was giving me fits.  I have soundmodem running on Debian (it's much easier to get it working there than Ubuntu), and the latest aprsx compiled locally.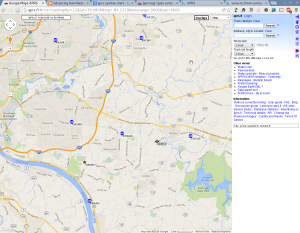 Hopefully by the time the evening rolls around, more will fill up this map gated by me.
Note that my location on the map is near, but not at, my house (not that I'm not really hard to find, with the magic of ULS/QRZ and Google Street View).
You can see the stats on aprs.fi.  At the time I'm finishing this post, I've only gated 6 stations through and they are only digipeaters and weather stations.  I have seen position packets through, but I don't know if they are not being gated or if they are but APRSIS isn't sending them because they are duplicates.
Either way, coverage on SR 32 (a high traffic highway) and SR 125 (a high traffic roadway) now have some coverage, and it looks like a local nearby digi is down for now (the owner has indicated in a blog post that he's moved, so it may be back sometime).
-73-
About the Author
Andrew is the owner of this blog and enjoys computer programming, building things, and photography. He's a pretty busy guy, which explains why updates to this blog are so infrequent.