The following is a QST...
Third Annual WATwitter QSO Party Is Announced
Three years ago NR4CB invaded her dad's shack and started the idea of "Worked All Twitter" while trying to work as many of her twitter friends as she can.  This has become an annual event held around the US Thanksgiving holiday.  The event runs from Wednesday, November 27 through Sunday December 1st.  See more details on The Bionic Nerd blog post.
ARRL Upgrades to Logbook of the World Worked
Last year at this time, many hams referred to Logbook of the World (LOTW) as "Logjam of the World" because LOTW got so far behind due to the deluge of logs from several contests in a row, starting with the CQWW contest.  After a few weeks of building queues that were continually growing, the league took the servers offline and ultimately did a lot of work on the server systems.
This year, band conditions were excellent for both days of CQWW.  In the hours after CQWW, the worst delay I saw was 1 hour 13 minutes, and as shown below, the queues are not building to the point where they are not releasing within a reasonable time, as evidenced by the fact that there was a 42 second delay at 13:59 UTC and the worse queue listed was five hours earlier).  Kudos to the league for fixing the problem. In addition, the league also decided back then to be open about how long the queue actually is.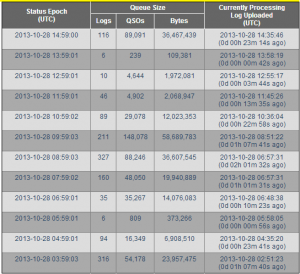 I will be Running Flying Pig Half Marathon
For anyone that's kept up with my almost-daily Endomondo spam to Twitter, you may have noticed the distances are ever-increasing and the speeds are increasing as well.  I had started "shopping" for a half marathon to run.  After telling one of my coworkers that she should run the Flying Pig 10k, she decided she wanted to run the half.  Another coworker (and marathon veteran) said she'd run the half.  We have another coworker committed to either the half or the full (he just ran Columbus two weeks ago - his first - in a damn good time).  We're working on a fifth person as well.  Additionally, I've been talking with another local ham that may run it depending on his training/school calendar.
My goal time is below 2:18:00.  That's just under an average of 10.5 minutes per mile.  I've been running two major parts of the actual course, so by the time this rolls around, I'll be ready.  Of course I know at least half the ham radio volunteers on the course, some of them may cheer me on, at least one will tell me I'm a slowpoke.
-73-
About the Author
Andrew is the owner of this blog and enjoys computer programming, building things, and photography. He's a pretty busy guy, which explains why updates to this blog are so infrequent.