I've had a few "duuuh!" moments recently:
I tried to test SWR with the mic on SSB without whistling or saying "heelllllllooooo" (I realized I shoulda known better and got a 3.5mm plug to use as a redneck key)
I saw something on the Internet about using a butane torch to solder PL-259 plugs.  One of those plugs just popped off the wire it was supposed to be soldered to.  Another had the center insulator shorted to ground.  Each time I've done this, I've burned insulation and other stuff.
I got my work computer banned from http://www.hamqsl.com/solar.html trying to make a Rainmeter skin for it.  Fortunately, I did this on Friday and the ban was lifted by Monday.
I've had a few smarter moments, too:
Since I bought a pair of the HTX-100s, I joined the Yahoo Group and just started watching messages.  A recent message by another group member indicated that the display would be back if you let a certain capacitor charge.  The supposedly-broken rig is now working again.
I joined the Milford Amateur Radio Club.
I started playing with MPM Morse Factory on my Android phone to practice sending in CW. Unfortunately, it appears that it has disappeared off the Play Store.
I wanted to see Ham Nation on a big screen, so I used my Blu-Ray player to pull it up on YouTube.
I dropped by a truck stop on my way home from a meeting in Frankfort, KY to grab lunch.  While I was there, I browsed through the CB aisle and picked up some RG-8.  Probably not the greatest stuff, but it'll work in the pinch I'm in.
I was unable to catch Ham Nation live last night (sorry, I was watching the Reds).  An in-depth look on iTunes and even TWiT's website revealed no subscribe link (but they DO have the audio posted).  So, with a little digging, I found the address: http://leoville.tv/podcasts/hn.xml.
To subscribe in iTunes:
1. Open iTunes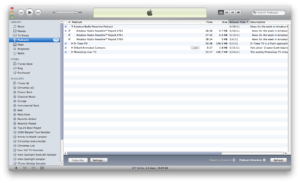 2. Go to Advanced and then to Subscribe to Podcast...
3. In the Address window, paste the link (above)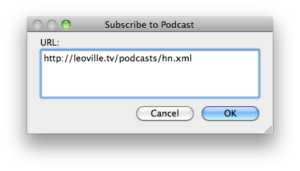 4. Enjoy!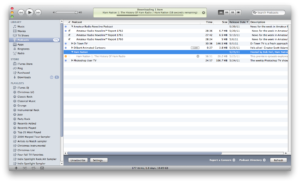 Update: want video?
Large size: http://feeds.twit.tv/hn_video_large
Small size: http://feeds.twit.tv/hn_video_small